The world's smartest vehicle security system with a 360 degree dash cam that sends footage to your mobile device upon impact or movement of your vehicle.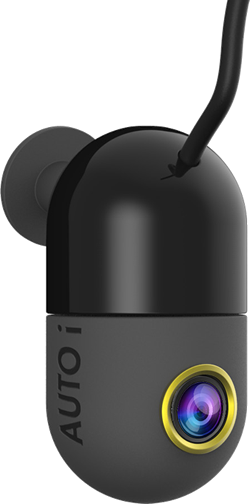 Easily install auto i In Your Car (Plug and Play)

Get Information of Incident

Video Proof for Police Complaint or Insurance

Protect Your Car and Loved Ones
Introducing the Auto i, the most effective vehicle security system. Impact and movement trigger a notification sent to the vehicle owner's smart phone, which is accompanied by a 360 degree video of the event.
According to the FBI, in 2014, a car was stolen every 14 seconds, along with a rise in break-ins and assaults across the U.S. Traditional car alarms are 99% ineffective for deterring theft or catching someone who damages your vehicle and flees the scene.
Finally, a smarter option to protect
Rather than just making noise, the Auto i alerts you if there is any impact or movement on your vehicle. It also provides level of impact and sends you a video of 15 seconds prior to impact or movement as well as 15 seconds after impact/movement. Our device also alerts the perpetrator via a verbal warning that they are being recorded.
The Auto i provides security for all of the situations you and your car encounter: BREAK-INS, THEFT, HIT-AND-RUNS, ACCIDENTS, TRAFFIC STOPS BY POLICE, TOWING, TRACKING TEENAGE DRIVERS, ROAD RAGE . Contains Night Vision (black and white) for the interior and exterior of your vehicle.
Careless and Aggressive Drivers
Don't allow irresponsible drivers to damage your car without any repercussions. If someone hits your car, the Auto i records the perpetrator in the act so that you're more likely to receive compensation and restitution for the damage incurred.
In case of an accident, the Auto i records an HD video of an incident between vehicles, which is an important tool to be able to provide insurance companies and/or law enforcement.
Our patented, state of the art, circular buffer technology provides full, clear HD footage both before and after an incident or an event.
The Auto i also provides the highest level of protection INSIDE of your car as well as outside for ultimate interior cabin safety. By simply pushing the button on our FOB, you can record the events inside of you vehicle. Our pre-record button also allows you to record the events 15-30 seconds prior to triggering the cameras. Perfect for Uber, Lyft, and Cab Drivers as well as law enforcement vehicles. It also provides footage and protection against police stops as well.
Your vehicle is one of the largest investments that you will make. Secure it with the unparalleled protection that the Auto i provides.
The Auto i allows for significant auto insurance discounts. There will be a Nominal Monthly Connectivity Charge ($5.99-$9.99), which can be offset by the insurance discounts you receive as a result of installing the auto i device in your vehicle. You will receive free connectivity if your vehicle is equipped with wifi, and free downloads with any wifi connection (i.e. connects to your home's wifi connection).
The Auto i allows you to monitor your teen and their driving habits while behind the wheel. This gives you the ability to ensure that they are safe and not texting or distracted while driving. When someone in your family triggers the Fob due to a potential dangerous situation, you will be immediately notified and can view the event as it is happening providing you piece of mind for the safety of your loved ones.
Keep track of your fleet from your smartphone or desktop computer via the Auto i website. The Auto i provides your vehicle's location through GPS as well as video monitoring while recording critical events, helping to guard against frivolous claims and lawsuits.
The Auto i contains an SD Card (Up to 7 hours of recording space) which allows the driver to use its camera as a dash cam – a safe, hands-free device for the auto enthusiast or capturing those once-in-a-lifetime moments.

Copyright 2018 Mobile Intelligent Alerts, LLC